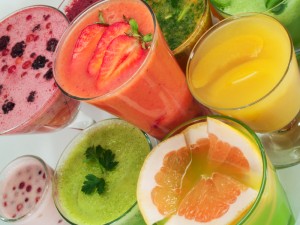 Smoothies are an easy, nutritious, delicious way to to boost your nutrition intake daily. Here are some smoothie basics and fun recipes. Enjoy!
Protein Powders for Smoothies
Starting the day off with protein helps you avoid the blood sugar roller coaster that leads to sugar cravings, fatigue and weight gain. A quick, delicious and simple way to do this is with smoothies.
Whey: The most bioavailable protein, meaning the one that is the easiest for your muscles to absorb and efficiently utilize. Look for one that is derived from grass-fed cows, free of growth hormone, to avoid pesticides and toxins. Avoid artificial sweeteners: Splenda, AceK. Stevia and natural flavors are acceptable. Subract the carbs from the fiber and the total should be 6g or less.
Pea Protein: This is a good option for those who are sensitive to whey protein.
Rice Protein: This is used in many detoxification and hypoallergenic protein powders.
Egg Protein: A substitute for whey and a complete protein
Soy: Make sure it is non-GMO and avoid if you have a thyroid disorder.
Fruits for Smoothies
One cup fresh or frozen organic raspberries or strawberries seem to gel best, blueberries are a bit more watery, but you can mix about 75% raspberries or strawberries with 25% blueberries. The darker berries are quite rich in antioxidants. Mango, apple, pineapple are strong tasting, so are good for "masking" some powders. Bananas are high glycemic so if you choose them, just use half.
Healthy Fats for Smoothies
Ground flaxseeds, a great source of fiber and also help to affect hormone ratios favorably. A bit of sesame oil is nice for those who prefer a spicy flavor. Chia seeds are also a great fiber source. Almond or peanut butter adds flavor and thickness. If you need it to keep you satiated longer, add the nut butter. Coconut has immune supporting and anti-fungal properties-try some sulfite-free shredded coconut.
Milk Options for Smoothies
Almond Milk – Silk brand unsweetened, chocolate or vanilla
Coconut Milk – unsweetened
Flax Milk – unsweetened
Hemp Milk – unsweetened
Cow Milk – organic, unsweetened
Extra Nutrition Boosters for Smoothies
At least one tsp of cinnamon powder (organic and non-irradiated). Has a nice flavor and has wonderful effects on blood sugar levels.
A handful of fresh greens: spinach and kale blend well and don't impact flavor very strongly.
A nice splurge of organic vanilla powder (or 1/8 pod of vanilla).
A bit of finely grated organic lemon, lime, ginger, turmeric, thyme.
A tbs. of MCT oil (derived from coconut) for those who need a lot of energy (athletes, cancer patients, Skinny Minnies), immune support, or those who have problems with their GI tracts, such as Candida (yeast) overgrowth.
With kids or people who need to take a lot of supplements, you can open many of these and add them to the shake.
Some additional pointers
Regarding consistency, you have a choice between making a sorbet (soft ice-cream like concoction), or a shake. If you add less milk and more fruit/fats, it will be thicker.
When making smoothies with greens, adding fresh lemon juice will preserve the smoothie and keep it bright for 24 hours.
If you are avoiding citrus, a tart Granny Smith apple and fresh or frozen cranberries in your green smoothies will add the tart flavor normally provided by the lemon.
If your green smoothie tastes too bitter, add one or two pitted dates or a pear.
In the summer, adding frozen fruit and coconut water makes for a simple, refreshing smoothie.
Leftover smoothies can be stored in glass jars in the fridge.
My Favorite Smoothie Recipes
Here are my favorite smoothie combinations. Remember, you can add more liquid if you like a thinner consistency.
Berry Almond: 1-1.5 cups almond milk, ¾ cup mixed berries, 1 tbs. almond butter, 1 scoop protein powder.
Tropical: 1 cup coconut milk, ½ frozen banana, ½ cup frozen pineapple or mango, 1 tbs. macadamia nut butter, a sprinkle of nutmeg, 1 scoop protein powder.
Autumn Spice: 1 cup almond or hemp milk, small apple, ½ cup pumpkin puree, 2 tbs. walnuts, a sprinkle of Allspice, 1 scoop protein powder.
Blueberry Mint: 1 cup water or milk, ¾ cup blueberries, ½ cup watercress, 1 tbs. cashew butter, 8 leaves of finely chopped mint, 1 scoop protein powder.
Pumpkin Orange: 1 cup milk, ½ cup orange slices, ½ cup pumpkin puree, 1 tb.s almond butter, a sprinkle dried cloves, 1 scoop protein powder.