The Nutritional Wellness Center 5 TIERS Weight Loss Program: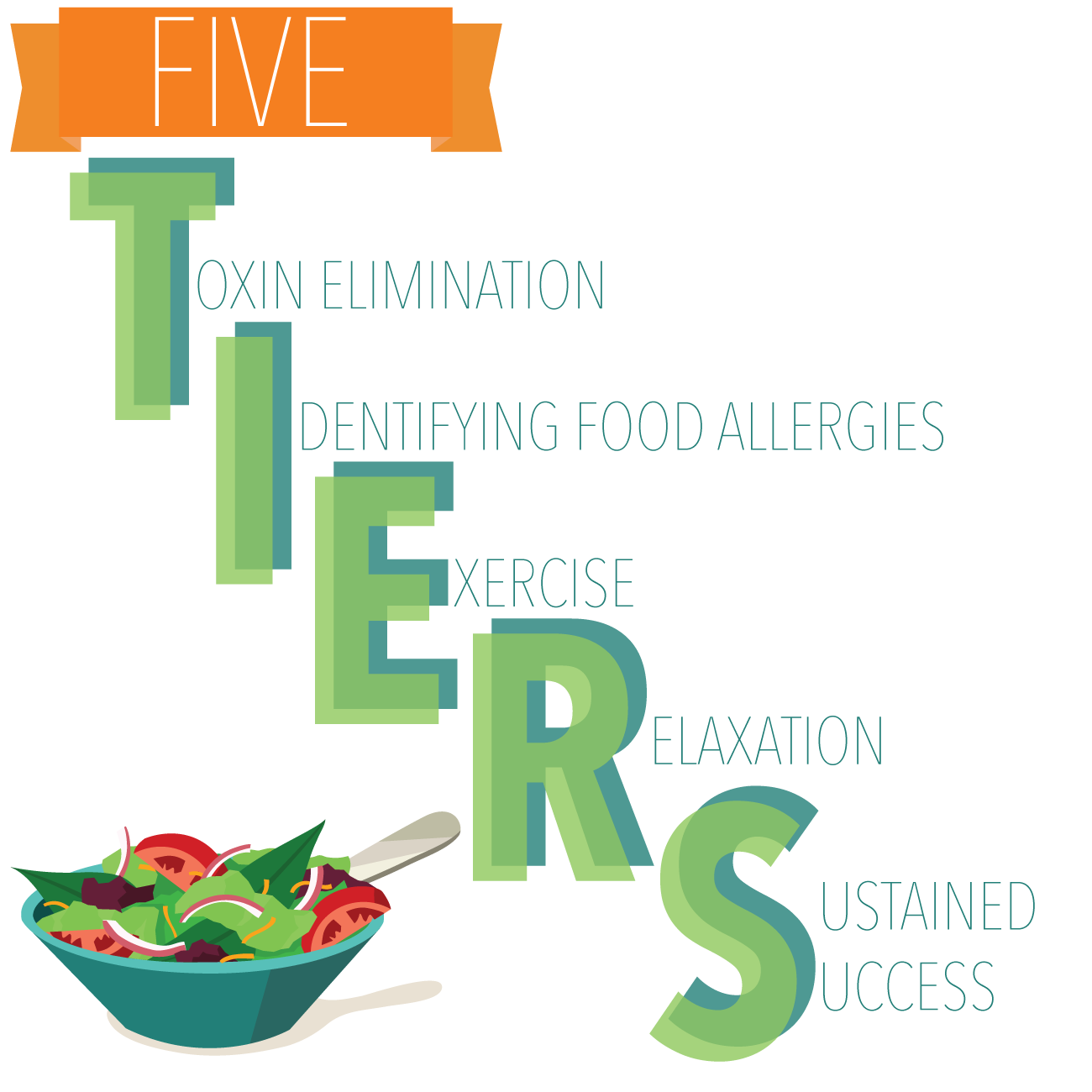 © Copyright 2016-2017. Dr. Adria Rothfeld. Nutritional Wellness Center. All Rights Reserved
5 TIERS:
Toxin Elimination
Identifying Food Allergies
Exercise
Relaxation
Sustained Success
This program is especially geared for you if you want to:
Lose weight and improve your health once and for all, with a comprehensive approach for long-term success instead of a quick unsustainable fix.
Participate in an enjoyable, realistic wellness  program with caring support and also accountability
Your initial visit will include:
Your nutritional exam and consultation
You will start your cleanse (simple, healthy food-we don't starve you…no laxatives) and food sensitivity eating plan to identify which foods your body is adversely responding to
Labs will be ordered to enable us to target your particular areas of weight loss resistance
InBody Body Composition Analysis InBody Testing  (accurate/quick/clothes on),
After the cleanse phase:
Your labs will be reviewed in detail
Your meal plan will be tailored to your concerns, goals and body composition analysis
Your metabolic rate, determined by advanced body composition analysis, will guide us as to your specific needs
Easy to follow menu plans and recipes/cookbook will be provided
You will learn how often to eat, how to balance meals and snacks, and how to plan and prepare simple and nourishing meals.
We will teach you how to read labels and scrutinize ingredient lists, understanding healthy proteins, fats and carbohydrates.
We offer our customized supplement packet for weight loss which does not contain stimulants, but instead, is geared towards improving metabolism through blood sugar regulation and more efficient fat burning.
Dr. Adria has specifically chosen which supplements to include after years of functional medicine training and research into the science of nutritional weight loss.
Additional visits will entail:
Review of food journals
InBody Body Composition Testing at each visit
Training in mindful eating
Exercise recommendations
Tips for relaxation and sleep enhancement
Trouble-shooting strategies to help keep you on track
COMPASSIONATE AND KNOWLEDGEABLE SUPPORT FROM OUR STAFF
The last tier will involve  follow-up lab testing and  a prescribed maintenance program so that you can continue your healthy lifestyle and achieve your ultimate goals.
Read more about the details of this program:
You will learn  about the factors that contribute to weight loss resistance and which of these are unique to you (identified via our comprehensive labs and evaluation):
Brain chemistry imbalances which can lead to anxiety, fatigue, depression, and emotional eating
Low calorie dieting
Unstable blood sugar which causes a roller coaster of blood sugar ups and downs that result in sugar cravings and mood swings as well as upsetting adrenal (stress) function.
Low thyroid function
Food sensitivities-silent inflammation
Hormonal imbalances, especially related to PMS and menopause in women, low testosterone and DHEA in men
Yeast overgrowth/GI imbalances
Essential fatty acid deficiency
Exposure to toxins that are making it hard to burn fat
The above contributors affect the main factors dictating successful weight loss: Insulin management, appetite control (cravings) and metabolic rate.
Through our in depth analyses you will learn which of the above criteria are preventing you from achieving sustained success. Your evaluation will include advanced body composition testing via our rapid and painless InBody Testing as well as a nutrition physical exam and targeted blood testing which is done in our NJ office for your convenience.
Phase 1: Cleanse and Food Response Diet: Phase 1 helps to identify which foods may be adversely impacting your health through inflammation, which is a common contributor to fluid retention as well as multiple chronic symptoms such as fatigue, congestion, GI upset, headaches, and mood imbalances. You will also learn how to remove hidden toxins from your diet and environment. Toxins store in our fatty tissue, and our bodies are reluctant to burn and release that fat to a system that is overwhelmed and unprepared to handle this toxic burden, which is why detoxification is mandatory for successful and sustained weight loss. Our patients commonly report not just weight loss, but increased mental clarity and focus during this phase.
Phase II:  Customized Meal Plan: Your diet will now be personalized based upon your lab analysis, body composition results and metabolic rate assessment. We will address a main component of weight gain/hormonal imbalance/cardiovascular risk/fatigue/mood swings: Insulin and Blood Sugar Instability.
Easy to follow menu plans and recipes/cookbook will be provided. You will learn how often to eat, how to balance meals and snacks, and how to plan and prepare simple and nourishing meals.
Phase III: Relaxation and Exercise: Stress is a common reason for losing traction. Strategies for supporting the adrenals, our stress-managing organs, as well as promoting sleep, relaxed mindful eating and a more advanced exercise prescription will be addressed during this phase.
Phase IV: Sustained Success: Labs will be repeated, adjustments to your program will be made based upon your improvements, and we can decide your best course for maintenance and continued success. By addressing your core imbalances, we anticipate lasting changes in body composition, renewed energy and vitality and significant reductions in cravings.
This Comprehensive Package includes a total of 6 sessions-meeting bimonthly (3 month program)
4 visits with Dr. Jessica Hardy, ND (Naturopathic Physician)
2 visit with Dr. Adria Rothfeld, DC (Doctor of Chiropractic), MS (Master's Degree in Human Nutrition), CNS (Certified Nutrition Specialist). Click here to read more about our physicians.
Also included:
6 InBody Body Composition Analyses Click here for InBody Information
Our Personalized Clean Slate Detox Meal Planner Booklet
Our FLT Cookbook
Your Customized Phase 2 Meal Plan
2 bottles of Smoothie Powders (one month's supply)-One for the cleanse phase, the second for the custom menu phase, proven to support muscle building and enhanced body composition
Our unique weight loss (no stimulants) supplements combined in small packets that you can take along for convenience. These have proven efficacy yet have been carefully chosen to avoid uncomfortable symptoms. They target fat burning, blood sugar stabilization and stress relief to minimize cravings and the mood/food response.
All for our New Year's 2017 Pricing of $650. You must be signed up during the months of January and February to receive this discounted offer.