Date/Time
Date(s) - 01/24/2020 - 02/28/2020
12:30 pm - 1:30 pm
Location
The Nutritional Wellness Center of New Jersey
"You can't stop the waves, but you can learn to surf." – Jon Kabat-Zinn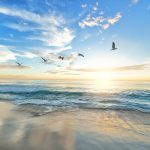 Sometimes life's ups and downs make us feel overwhelmed. Mindfulness (awareness of the present moment without judgement) allows us to better ride the waves of life. In this weekly class we will explore evidence-based techniques (mindful breathing, mindful eating, body scan, grounding, self-compassion, etc.) that have been shown effective in helping with issues such as:
• Muscular tension, headaches, chronic pain
• Fatigue and sleep issues
• Digestive and immune issues
• Lack of focus, depression, anxiety
• Feeling overwhelmed or "on edge"
6-Week Series on Fridays from 12:30-1:30pm with certified mindfulness educator, Karin Weinstein
We can fit up to 10 participants so please call soon if you want to reserve your spot.
The fee is $90 for all 6 classes.